News
VOXX Debuts Seatback System Offering 'Unlimited' Entertainment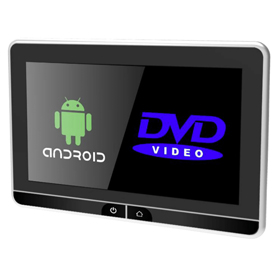 VOXX Electronics Corp. (VEC) at the CES Show introduced its newest seatback system, which is designed to be the ultimate in-vehicle entertainment solution, according to VOXX.
The Advent Unlimited seatback system has two 10.1-inch high-definition digital touch screen monitors with IPS panels, both loaded with an Android operating system with lightning fast processing power and Google Play Store access to deliver movie, video, game and music apps. Both screens are controllable through a touch screen interface, but the system can also be fully controlled through an iOS or Android app where the users in the front seat can access and control the content being selected for viewing for rear seat passengers.
"VOXX has been a leader in vehicle rear seat entertainment for over 15 years and we have remained committed to developing new, unique and innovative ways to enhance the in-vehicle experience for passengers as new technologies evolve," said Aron Demers, senior vice president of VOXX Electronics Corp. "Today, the ability to access content from anywhere, on demand, is one of the most desirable features a system can offer, and our new Advent Seatback system delivers unlimited access to a variety of content through apps and source inputs, and provides remote control from anywhere in the vehicle; a key feature for when passengers are too young to control the system."
Both monitors can display shared content or individually access its own content. One monitor includes a DVD player. SD and USB inputs allow additional source inputs for media, charging and expanded memory capability.
Even though the system provides the ability to load all of users' favorite apps directly to the monitors to stream in all of the content you can imagine, VOXX SmartStream technology is also built-in, enabling content to be wirelessly streamed from a smartphone or tablet. This gives users the ability to take their personal content and stream it from their device, according to the company.
The system also comes with an additional user and installer feature where the monitors are connected wirelessly. Content can be shared between both monitors in hi-definition so there is no signal degradation and it saves some time in install labor since no control box is needed to link the monitors.
For more information, visit voxxelectronics.com.