News
Volvo Cars Adds In-Car Delivery by Amazon Key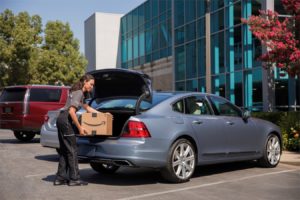 A collaboration between Volvo Cars and Amazon Key brings in-car delivery of packages to customers in the United States. According to Volvo, the collaboration represents a considerable scaling-up and maturing of Volvo's digital consumer services. It uses Volvo's On Call service platform, available via a smartphone app.
The service is available now across 37 cities to Amazon Prime members, as well as most Volvo owners.
The in-car delivery service requires customers to download the Amazon Key App and link their Amazon account with their Volvo On Call account. Once setup is complete and a delivery location is registered, customers can shop on Amazon.com and select the "In-Car" delivery option at checkout.
The Amazon Key and Volvo On Call apps will notify customers when the delivery is about to happen and will be notified again when the delivery is completed and the car is safely locked.