News
Vision X Off-Road Racer Claims Best In The Desert UTV Championship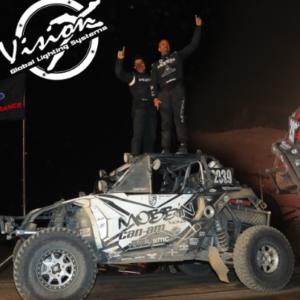 The Best In The Desert Racing Association concluded the 2019 racing season with Vision X racer, Michael Isom of Mobbin Racing, capturing the Laughlin Desert Classic Night Race victory in the UTV Unlimited class. The win also earned him the 2019 UTV Unlimited Championship aboard his Can-Am Off-Road Maverick X3 UTV race car.
The annual night race in Laughlin, Nevada put racers onto a high-speed desert race course late into the night, where vehicle lighting was key to a great performance. Isom's No Limit built Can-Am Maverick X3 race car is equipped with Vision X's latest LED lighting technology, featuring the SHOCKER LED Light Bar. For maximum lighting output, the Vision X CG2 Light Cannons compliment the SHOCKER LED Bar to ignite the course near and far, resulting in the winning LED light combination.
"Michael's passion for preparation and training to win is second to none. It's a pleasure working with teams like Isom's, who not only loves the sport, but loves going into battle with right tools for success. Congrats to Michael and everyone at Mobbin Racing on a fantastic year," said Danny Adair of Vision X's marketing department.