News
Vision X Night Match Classic Raises $20,000 for Toys for Tots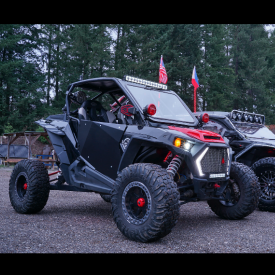 The 4th Annual Vision X Night Match Classic, held at the Paul Bunyan Rifle and Sportsman's Club, raised over $20,000 for the U.S. Marine Corps Reserves Toys for Tots Foundation. The proceeds were double the amount from last year's competition, which raised $10,705 in 2018. The Vision X Night Match is an outlaw UML scoring format shooting competition.  This year featured Pistol/Pistol Caliber Carbine (PCC) divisions, which spanned three days with six-night stages and six-day stages, with a total of twelve stages.
With spectators and competitors, it was the largest Vision X Night Match Classic yet, featuring a range of competitors from first-time shooters to experienced veterans. "We had overwhelming support from sponsors, staff, and competitors, which drove this donation to its highest yet," said Tim Novasky, match director. There were 43 sponsors this year with 147 competitors, 51 more competitors than last year.
"Throughout the weekend I had people nonstop coming up to me, telling me how much fun they were having, and thanking me for being part of the staff that put the event on," Night Match co-founder Jeff Snope said. "The match would have never been this big without our sponsors, our vendors, and the shooters. Everyone really fit together like the pieces of a puzzle to make this event a success."
The night match included vendor booths, a demo bay, a side match and a BBQ for the range of competitors and spectators. Nick Irwin, of Vision X lighting, and Snope, of Northwest Safe, co-founded the competition for charity in 2016.