News
Virtual Debut for Hyundai ELANTRA N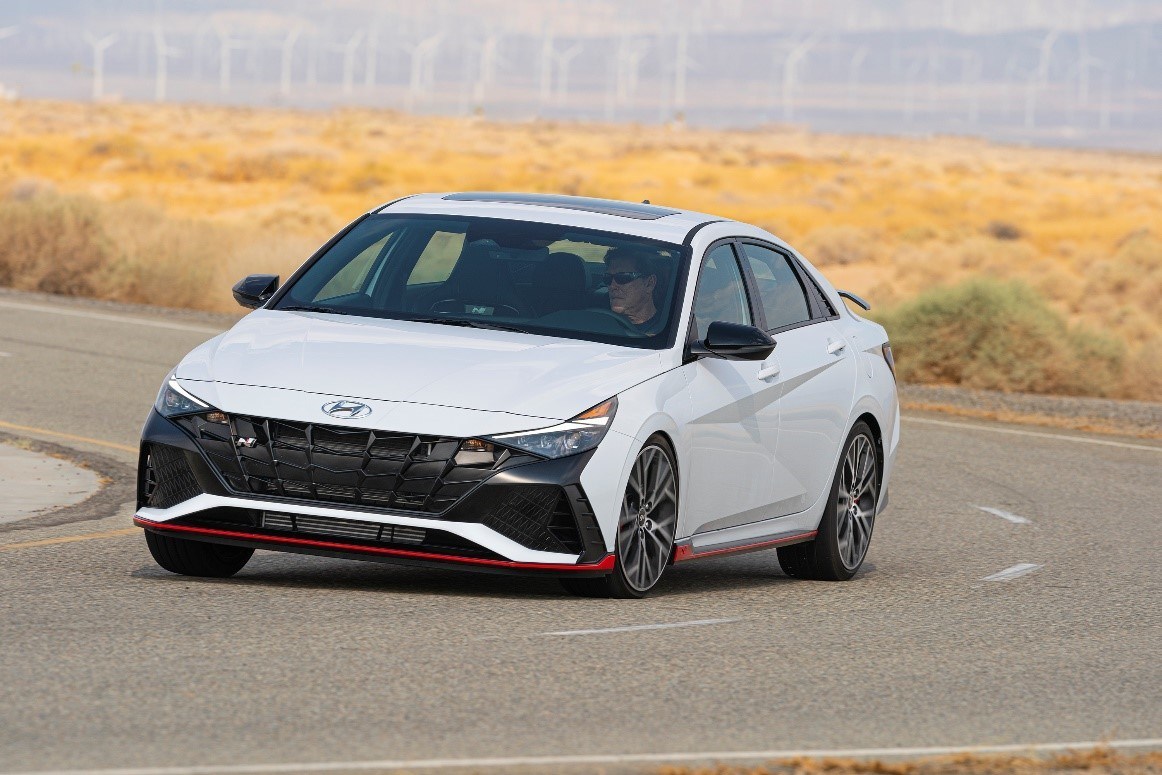 Hyundai has unveiled its all-new 2022 ELANTRA N for the North American market in a virtual debut.
Rounding out the carmaker's N brand lineup of Everyday Sports Cars, the ELANTRA N is a high-performance variant of the new Elantra.
"It adds strong, dynamic driving capabilities and aggressive design elements to the standard model," the company reported in the debut. "Hyundai's N brand details more than 40 specialized N elements, tuned precisely to enhance driving performance."
FROM STREET TO CIRCUIT
ELANTRA N is powered by a 2.0L turbocharged, direct-injected flat-power engine with a 52mm turbine wheel and a 12.5mm2 turbine passage with an area increased by 2.5 mm2. The enhancements, along with the optimization of the shape and material of the cylinder block, improve both performance and durability, according to Hyundai. As a result, the flat-power technology generates maximum output from 5,500 rpm for brisk acceleration.
Available with an N 8-speed wet, dual-clutch transmission, it delivers a maximum output of 276 hp from 5,500-6,000 rpm and torque of 289 pound-feet from 2,100 to 4,700 rpm.
With N Grin Shift (NGS), the boost pressure temporarily increases, briefly increasing output to 286 hp. The ELANTRA N is also available with a standard, close-ratio 6-speed manual gearbox.
ELANTRA N's handling performance is further enhanced by the N Corner Carving Differential (e-LSD), Variable Exhaust Valve System and Launch Control—all of which are specialized, high-performance standard features. For DCT models, N Grin Shift (NGS), N Power Shift (NPS) and N Track Sense Shift (NTS) are standard features that maximize driving engagement.
To further enhance handling, ELANTRA N also provides robust braking performance. The 14.2-inch brake rotors are equipped with high-friction pads, while an additional cooling aperture in the half-cut brake dust covers—combined with braking air guides—provides improved cooling efficiency.
For the first time ever in a Hyundai, ELANTRA N applies an integrated drive axle (IDA), inspired by technology in WRC rally cars. By integrating driveshaft, wheel hub and bearing, a weight reduction of 3.81 pounds enables a lighter and stronger driveline, according to the company, also benefiting performance during extreme lateral g-forces.
Hyundai has applied, for the first time, a dual-compound insulator to the front suspension. Together with the dual-compound trailing-arm bushing it achieves optimal performance in ride and handling as well as noise, vibration, and harshness (NVH), separating front/rear and left/right dynamic forces.
ELANTRA N applies four-point strut rings and a rear stiff bar to strengthen body rigidity. Torque-feedback rack-mounted power steering (R-MDPS) provides a consistent steering feel even when the external environment changes, such as temperature.
Finally, ELANTRA N adds a special feature for aural driving engagement. N Sound Equalizer (NSE) is a virtual engine sound that not only simulates sounds from Hyundai Motorsports, such as TCR race cars, but also has an equalizer function that allows adjustment of details for each range (whine, throat, bass) to personal preference.
This allows the driver to hear a dynamic engine sound as their mood dictates. In addition, the variable exhaust valve system, which delivers the exhaust overrun pop and crackle elements, now uses linear control to reduce booming during idling, while maintaining the distinctive N exhaust note.
ELANTRA N is the first N vehicle to use 245 section width Michelin Pilot Sport 4S tires on 19-inch alloy wheels for increased traction and dynamic cornering performance.