News
Virtual AAPEX Adds to Training Schedule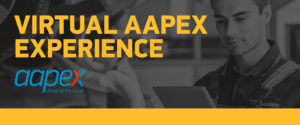 Training sessions from Carquest Technical Institute (CTI) and WORLDPAC Technical Institute (WTI), ASE and Michelin have been added to the schedule for the Virtual AAPEX Experience, Nov. 3 – Nov. 5, show organizers announced.
The new sessions are part of a comprehensive lineup of free technical and management training led by industry trainers. Training is geared toward shop owners, technicians and service advisors, although all aftermarket professionals are welcome to attend. Registration is required and can be completed here.
Training by CTI and WTI will include:
Ultrasonic Diagnostic Strategies: Enhance your Senses for a Faster, Safer Diagnostic Direction, Nov. 4, 10:30 a.m. – 11:30 a.m., (EST); and
Diagnosing Difficult Fuel & Oil Deposit Related Driveability Concerns, Nov. 5, 10:30 a.m. – 11:30 a.m., (EST).
ASE will offer three On-Demand classes:
ASE Section 609 Update and Other MVAC Service News;
A New Path to Recertification – The ASE Renewal App; and
How to Successfully Establish an Effective CTE Advisory Committee.
Michelin will offer: Secure Access to Vehicle Repair Data by the Aftermarket, Nov. 4, 11:45 a.m. – 12:45 p.m., (EST).