News
VIP Distributing Company Partners with Local Veterans Organization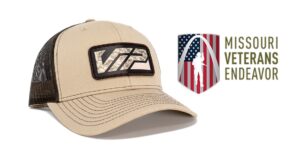 VIP Distributing Company, an automotive restyling, reconditioning, and auto parts distributor, has partnered with Missouri Veterans Endeavor (MOVE) to benefit St. Louis-area veterans in need, the company announced.
A month-long donation drive will run throughout May. During that time, VIP will be accepting donations of physical goods on behalf of MOVE, the company said. Anyone who donates at least $25 of goods can receive a military-themed VIP Auto Accessories snapback hat at no cost. This limited-edition hat can only be obtained through this donation drive and will not be sold. The organization is seeking a wide range of goods including home goods, cleaning supplies, and gardening tools.
Click here for a complete list of the items being collected.
"Throughout the month of May we have several efforts focused on paying respect to our military personnel, and this donation drive is what I'm most excited for," said Jason Prott, marketing manager of VIP Distributing Company. "The MOVE Veteran community is very close to our headquarters, and we really respect their mission."
MOVE is a community for homeless veterans and their families. "Our veterans have not had the opportunity to tackle the immediate challenges in front of them, specifically having their basic needs met and we fill that gap for them," said Dawn Davis-Stellwag, operations manager of MOVE.
Veterans are able to live among their peers in a secure and sober environment with on-site counseling services available 24/7, the organization said. The organization has seen a recent rise in veteran needs, and attributes it to the pandemic and rising inflation. "Prior to Covid, the average length of stay was one and a half to two years, but since 2020, that has increased to two and a half to three years," explains Davis-Stellwag.
Donations can be dropped off during business hours at the VIP Auto Accessories showroom located at 1424 Ashby Road in St. Louis, Missouri.