News
Vintage Shop Equipment: Wholesale Screw Machine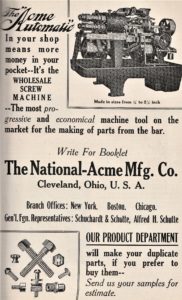 "The 'Acme Automatic' in your shop means more money in your pocket," The National-Acme Mfg. Co. told auto shop owners in 1907. Which didn't tell them much about what the device did. It was not only a wholesale screw machine—it was the most progressive and economical machine tool on the market for the making of parts from the bar. Essentially, if you had bar stock in your shop, the machine could turn it into screws.
Shop owners who didn't quite get it could write to National-Acme in Cleveland, Ohio, to get a booklet about the machine and how it could save them money. Or if the owners preferred, they could send samples of the fasteners they needed and The National-Acme product department would make duplicate screws for them to buy outright.
But using the machine to make your own hardware could save you money on the same goods and, theoretically, add to your shop's bottom line. Plus, there was no need to wait for needed fasteners to be picked, packaged and delivered by an outside supplier.
The history of National-Acme Co. traces back to Hartford, Conn., where it was founded in 1895 by two mechanics who had spent over a decade perfecting and patenting a multiple spindle automatic lathe. A friend loaned them start-up money, but by 1897 they were going broke. The brother of one founder went to Cleveland looking for investors and traded 25 Acme machines for a stake in the new National Manufacturing Co. The firms merged in 1901 and, by 1914, National Acme was one of Cleveland's top manufacturers.