News
Vintage N600 Powered by a Motorcycle Engine Wins Honda Super Tuner Legends Series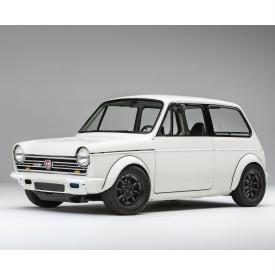 A 1972 Honda N600 owned by Stephen Mines has won the first-ever Honda Super Tuner Legends Series, which joined the Hot Wheels Legends Tour in 2019 as the exclusive tuner component of the program.
Customized over a five-year period, the Honda N600 is powered by a Honda VFR 800cc V-4 motorcycle engine in a rear-wheel drive configuration, sporting a 12,000 rpm redline and a surprisingly deep and growly engine sound.
It was displayed in the Honda booth at the 2019 SEMA Show.
"When I arrived at the Hot Wheels Legends Tour, I was truly impressed by the amount of work from the other Honda tuners. I'm thrilled, and humbled, that my N600 not only stood out, but was selected as the winner of the first-ever Honda Super Tuner Legends Series," Mines said.
The custom N600 boasts a modified Mazda Miata suspension system, seats from a Polaris RZR and modified front and rear bumpers from a 1967-'68 Chevrolet Camaro.
Mines' throwback N600 is fitting, as this year American Honda celebrated its 60th anniversary.
The other three finalists for the 2019 Honda Super Tuner Legends Series included:
HONDA N600
After a decade of growth that led to Honda becoming the top-selling motorcycle manufacturer in America and the world, Honda began automobile sales in the U.S. in 1970 with the Honda N600, with a starting price of $1,300. At just 122 inches in length, the N600 was small enough to fit between the front and rear wheels of some full-size American passenger cars of the time, according to the company.
The N600 had an all-alloy engine with a 9,000-rpm redline that could reach 81 mph. A simple-yet-skillfully-designed vehicle, the N600 was nimble and fuel-efficient.
The first-ever Honda Super Tuner Legends Series kicked off in El Segundo, California, in May as an extension of the second annual Hot Wheels Legends Tour, a national search for a life-size custom car worthy of being immortalized as a Hot Wheels toy car.
Local Honda enthusiasts entered their custom-tuned Hondas in the hopes of being selected as one of four finalists competing for the Honda Super Tuner title and the opportunity to have their vehicle displayed at the SEMA Show.