News
Vintage Air Debuts Three ProLine Louver Designs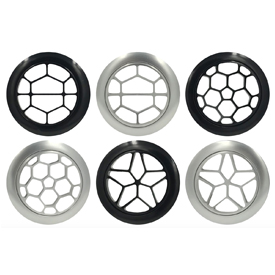 Vintage Air has released three new ProLine Louver designs that add unique style to any build. These CNC-machined billet aluminum louvers are drop-in upgrade options for any Vintage Air evaporator system.
The new ProLine Louvers are precision CNC-machined from T-6061 billet aluminum and feature a 2.73-inch outer diameter with a 2.5-inch diameter hole for the hose. They also feature a rotating center ball that allow the user to direct and maximize airflow, all while delivering stylistic modern designs that will complement many different interior themes, according to Vintage Air.
The new Vintage Air ProLine Louvers are available in three designs, Bandit, Continental and GT3. Each design is available in two finishes: Machine finish with clear anodizing, and full black anodized.
Vintage Air Proline Louvers, made in the U.S., come with all parts necessary for a complete installation.