News
Victor Racing DRS Rear Wing Approved for U.S. Touring Car Championship Series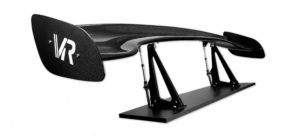 Victor Racing, producer of Smart Active Aero products and Drag Reduction System (DRS), has announced, in conjunction with the United States Touring Car Championship (USTCC), that its Smart Active Aero products have been approved for use in the upcoming 2020 racing season.
Victor Racing's Smart Active Aero Wings are standalone systems with built-in computers and various sensors that will automatically control the position of the rear wing using software algorithms to optimize downforces needed to maximize the performance of the cars to produce the quickest lap times possible.
As the sole provider of Active Aero products for the USTCC, Victor Racing offers several different models, which can be utilized by a wide-variety of car models competing in the various classes for the series.
"It is very exciting to be the only professional series outside of Formula 1 to utilize DRS and Victor Racing products are high quality and affordable," commented Ali Arsham, Managing Director of USTCC.
"We set out to increase the use of Smart Active Aero technologies for the masses, which is a noble idea since before us, it was mostly exclusive to very expensive cars", said Victor Wong, CEO, Victor Racing. "We made our products simple to install and with a starting price of just $1,499, financially accessible for most everyone."