News
VETMotorsports Founder Honored with Ohio's Excellence in Service Award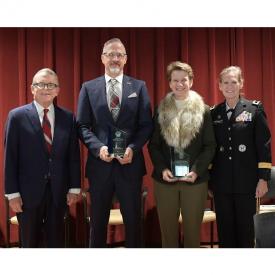 Peter A. Cline, founder and executive director of VETMotorsports, a charity for the military and veteran community, is the co-recipient of the 2019 Ohio Governor's Excellence in Service Award Serving Ohio's Veterans.
This inaugural award is presented to citizens of Ohio who have distinguished themselves in service to the military and veteran community and by having performed significant voluntary service beyond the call of business or professional duty.
Cline was one of two honorees recognized this past Veterans Day during a special presentation held at the Ohio Veterans Home in Georgetown, Ohio. Presenting the award was Governor Mike DeWine and the Director of the Ohio Department of Veteran Services MajGen (Ret.) Deborah A. Ashenhurst. Also in attendance was State Representative Doug Green.
VETMotorsports, the non-profit Cline founded, is a non-clinical outreach program that honors and empowers active, guard, reserve, Gold Star parents and veterans with service connected injuries through active participation in motorsports. The organization embeds qualifying participants with professional race teams, puts them behind the wheel to race in amateur events or in schools to advance their driving/riding skills. By placing these participants in hands-on, high-stress, team environments that mimic active duty, the organization gives them direction, empowerment and challenges that help them focus on ability and moving forward rather than disability and the past.
VETMotorsports reached over 163 participants plus family members in 2019 with events in Alabama, Arizona, California, District of Columbia, Illinois, Indiana, Mississippi, Missouri, New Jersey, Nevada, North Carolina, Oklahoma, Pennsylvania, Ohio, Texas (DFW, San Antonio and Houston) and Wisconsin. This year the organization collaborated with organizations such as The Sports Car Club of America, Yamaha Champions Riding School, The Transportation Research Center, Countersteer for Life and the Indy Racing Experience to provide their "helmet therapy" programming.
"I couldn't be more honored or humbled to have been chosen to receive the Excellence in Service Award," said Cline. "I think our program is a great example of citizenship in action, and that couldn't be more vital when you consider we're currently losing 22 veterans a day to suicide. Hopefully this recognition will help us shine a little more light on that fact and inspire more of citizens of Ohio to join us in honoring, engaging and empowering these deserving Americans."
To learn more about VETMotorsports, participate in the program, or make a donation, visit VETMotorsports.org.