News
Veteran Stock Racer Hired for Sales at Get'm Garage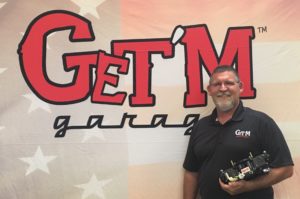 Orlando's GET'M Garage has added some new talent with veteran racer and carburetor technician Scooter Vester taking on a sales role. Vester will work directly with racers and provide product technical support to the company's growing customer base.
"I'm proud to join the GET'M Garage family and think my skills and carburetor knowledge will be a compliment to the company," Vester said. "Plus, GET'M Garage's commitment to racers fits well with my passion for all things racing."
"Scooter is well respected in the sportsman racing community, and his wealth of industry knowledge and experience are a huge win for us and our customers," said Trevor Wiggins, co-owner of GET'M Garage. "He's a great addition to the A-team we're continuing to build, and we're pleased to have him join us."
Vester previously served in the technical service department for Holley Performance Products. He spent more than six years with Quick Fuel Technologies, first as production manager and later in sales and technical support. With Quick Fuel, Vester developed the company's stock/super stock carburetor and attended numerous races and events. Prior to that he owned and operated Jett's Automotive in Carlisle, Indiana, along with his father.
Vester once worked in the Western Kentucky coal mines as a certified emergency medical technician (EMT) and as a volunteer fire fighter.
Vester the racer has numerous class wins in both the stock and super stock categories and earned runner-up honors at the NHRA Sports Nationals at National Trail Raceway in Columbus, Ohio.