News
Veteran Rebuilds Classic Car to Support EOD Warrior Foundation & QL+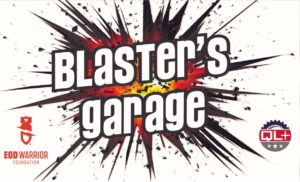 Blaster's Garage, a new YouTube series looking to make a difference for two charities supporting military veterans and their families, is gearing up to show fellow veterans rebuilding a donated 1984 Toyota Land Cruiser FJ60 for a fundraising raffle.
The six-episode YouTube series was inspired by Leon Tackitt, owner of and winemaker at Tackitt Family Vineyards near Paso Robles, California, and his friend and garage owner Eric Symonds.
The rebuilt FJ60 will be raffled off live during production of the final Blaster's Garage episode later this year. All proceeds will be donated to EOD Warrior Foundation and Quality of Life Plus (QL+).
"We are honored to be part of this unique initiative," said Nicole Motsek, executive director of the EOD Warrior Foundation. "We are excited for the opportunity to raise awareness about the incredible and lifesaving work EOD warriors are doing every day."
Along with Jon Monett, QL+ founder and president, Tackitt felt fundraising for both organizations was a natural fit. QL+, through its partnership with engineering programs in top-tier universities, develops innovative technical solutions to assist and improve the quality of life for wounded veterans and first responders.
"We at QL+ are excited to be part of this effort to work with the EOD Warrior Foundation to raise funds and understanding for those who have given so much," said Monett.
Tackitt, a 27-year Navy explosive ordnance disposal veteran, is an ambassador to the EOD Warrior Foundation, which serves the EOD community by raising awareness and gathering resources to offer financial, education, hope and wellness, and EOD memorial care support.
Blaster's Garage is a six-episode online vehicle rebuild program airing on YouTube. The rebuilt vehicle will be raffled off during a live taping of the final episode, slated for December.
Proceeds from the raffle will be given to the EOD Warrior Foundation (EODWF) and The Quality of Life Plus Program (QL+).