News
Vehicle Thefts Continue to Skyrocket in Many Places
Colorado leads nation with highest vehicle theft rate, California leads in overall thefts…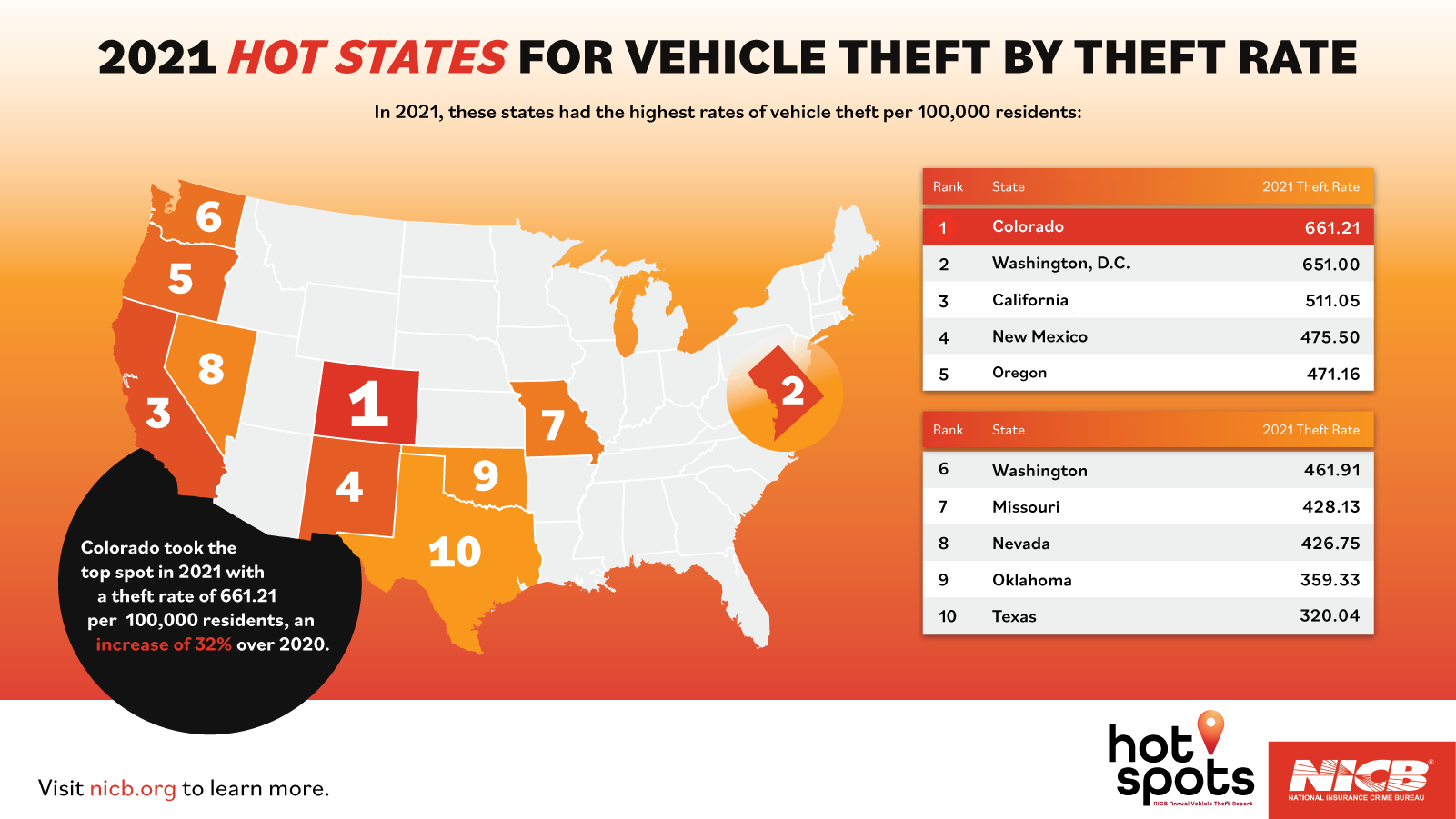 Does your shop offer theft-deterrent systems? There's still a need out there.
According to the National Insurance Crime Bureau's (NICB) Hot Spots Report, vehicle thefts continue to skyrocket in many areas of the U.S. Nationwide, 932,329 vehicles were reported stolen to law enforcement in 2021, a 6% increase over 2020, and a 17% increase since 2019.
Colorado led the nation in 2021 with the highest overall theft rate at 661.21 thefts per 100,000 people, up from 502.12 in 2020, an increase of 32%.
California had the highest number of vehicle thefts by volume in 2021 with 200,524 vehicles stolen, over 100,000 more thefts than second place Texas.
"For many of us, cars are essential to our livelihoods and the welfare of our families," says David Glawe, NICB president and CEO. "NICB, along with our partners in law enforcement, are proactively working to prevent and deter vehicle theft, but vehicle owners can take simple steps to empower themselves. No matter who you are or where you live, theft prevention starts with good security hygiene. Lock your doors and keep your keys with you at all times."
The top five states with the most thefts by volume, which include Illinois, Florida and Colorado in addition to California and Texas, account for 412,008, or 44%, of all vehicle thefts nationwide. Of these states, only Florida saw a slight decrease in vehicle thefts with 42,808, down from 44,940 in 2020.
In addition to having the most overall thefts by volume, California is also home to the Metropolitan Statistical Area (MSA) and Core-Based Statistical Area (CBSA) with the highest theft rate in the United States, as the Bakersfield, CA CBSA had 1,024 thefts per 100,000 people.
With a rate of 964.92 thefts per 100,000 people, the Denver-Aurora-Lakewood, CO CBSA was second overall in theft rate, while the former No. 2, the Yuba City, CA CBSA, fell to 10th place.
Not all states experienced an increase in thefts in 2021. Since the release of the 2020 Hot Spots report, 22 states have seen decreases in vehicle thefts.
The Hot Spots report examines vehicle theft data obtained from the National Crime Information Center for each of the nation's metropolitan statistical areas. These are designated by the Office of Management and Budget and often include municipalities other than the cities for which metropolitan statistical areas are named. For example, Bakersfield, California, includes the entire county of Kern, not just the city of Bakersfield.