News
Vehicle Builders Invited to Participate in SEMA360 Builder Showcase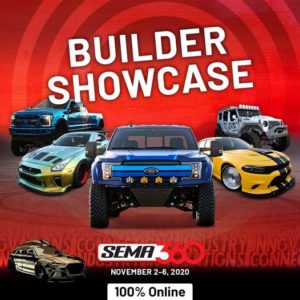 Applications for the SEMA360 Builder Showcase are now open at www.sema360.com.
In the absence of the in-person SEMA Show, the new SEMA360 was created as a 100 percent online trade-only event that focuses on an ecommerce marketplace, new products, vehicle builds and education for the automotive specialty equipment industry, SEMA says.
Unlike the SEMA Show, where vehicle space is limited and vehicle applications must be submitted by a participating manufacturer, the SEMA360 Builder Showcase allows vehicle builders the opportunity to enter vehicles directly into the program.
"We're excited to open up the SEMA360 Builder Showcase to all the talented builders across our industry," said Tom Gattuso, SEMA vice president of events. "We wanted to put a spotlight on the trends and innovation that go into these vehicle builds every year while highlighting the people who bring the creations to life."
"This is truly a worldwide platform to show off the passion and creativity SEMA Week has become known for," continued Gattuso. "The support we have had for SEMA360 has been tremendous, and we can't wait to see what this new Showcase feature will bring."
Applications to participate in the SEMA360 Builder Showcase must be submitted online by Oct. 9, 2020. Builders must submit a complete application that includes vehicle information, up to 10 photos, and an optional 90-second builder highlight video. Builders may also apply through a SEMA360 participating manufacturer.
All entries in the SEMA360 Builder Showcase may also participate in SEMA Battle of the Builders. Now in its seventh year, SEMA Battle of the Builders is the foremost competition that recognizes and celebrates the accomplishments of SEMA vehicle builders. Select vehicles from the competition will be featured in the television special and in SEMA publications and websites, and plans are for the top vehicles and builders to be flown to Los Angeles for filming. Application and details for Battle of the Builders can be found at www.semabotb.com.