News
Vance & Hines Signs Distribution Deal with Keystone Automotive Operations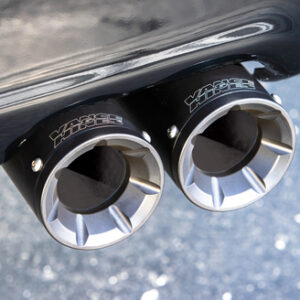 Vance & Hines has signed an agreement with Keystone Automotive Operations to distribute the Vance & Hines HoleShot Series Cat-Back Performance Exhaust Systems for full-size pickup trucks, the company announced.
"Keystone is the perfect partner to get our products to the top auto parts retailers and installers in the country," said Vance & Hines President Mike Kennedy. "Their distribution to accessory stores throughout the United States and Canada will ensure that Vance & Hines fans will have easy access to the great sound and terrific look that the Holeshot Series delivers."
"Everyone who knows motorcycling knows the Vance & Hines name," said Joe Rutledge, category director, performance. "This team knows exhaust, and just like with their motorcycle parts, manufacturing everything here in America shows how they've stayed close to their roots. Their products are driving enthusiasm in the market and our team has been buzzing with excitement since we saw these products at SEMA."
Drawing from the most recognized Vance & Hines designs, the HoleShot Series features two exhaust tip options including its classic Twin Slash cut, as well as the race-inspired Eliminator tip, the company said. Each exhaust system in the HoleShot Series is designed to replace stock exhaust systems after the catalytic converter (Cat-Back) to the exhaust tips and keeps all emissions-control equipment in place.
The initial lineup from the company includes systems designed for late-model, half-ton, crew cab, V8, Ford F150, Ram 1500 and Chevrolet Silverado trucks.
All HoleShot Series Cat-Back Performance Exhaust Systems will be manufactured using high-grade 304 stainless steel with CNC mandrel bending at the company's manufacturing facility in Santa Fe Springs, California.
Keystone plans to begin shipping exhaust systems to retailers and installers later this month.