News
UTI Offering Free Summer Program for High School Students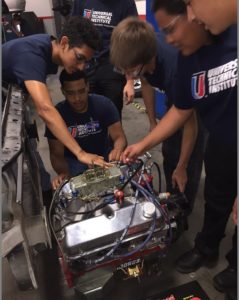 As part of its ongoing effort to address employer demand for skilled transportation technicians, Universal Technical Institute campuses nationwide will offer the summer Ignite program for the third consecutive year.
The program – free to high school juniors – gives prospective technicians hands-on training and an introduction into high-tech, high-demand careers in the transportation industry.
To date, 60% of students participating in Ignite have enrolled to attend UTI after they graduate high school, which helps to build earlier talent pipelines for UTI's industry and employer partners.
"To serve growing demand for technicians, UTI's Ignite program demonstrates the career pathways available and showcases exciting new technology in our industry," said Paul Neumann, Penske Automotive Group senior vice president of human resources. "It's especially promising to see so many motivated, goal-driven young people willing to spend part of their summer getting a jumpstart on a great career."
The Ignite curriculum emphasizes a career-focused education that prepares students for the high-tech transportation industry of the future. Students receive hands-on training on today's transportation technologies and learn from local employers about the demand and earning potential for trained technicians. Participants are also eligible to receive credit toward future UTI courses and can complete a UTI program and begin a career in the transportation sector in less time.
UTI launched Ignite nationwide in summer 2018 following a successful pilot program at campuses in Avondale, Ariz.; Houston, Texas; and Orlando, Fla. Participation has steadily increased from 57 students during Ignite's inaugural year to more than 500 students in 2019. To date, 937 high school juniors nationwide have received state-of-the-industry hands-on STEM training at no cost through Ignite.
"As strong demand continues for trained technicians, one of the most important things we can do is educate our nation's young people about the extensive opportunities that exist in transportation and the skilled trades," said Jerome Grant, UTI's CEO. "Ignite is a workforce development initiative that gives students invaluable real-world hands-on training experience while exposing them to high-tech, well-paying careers they may have never considered. We're encouraged to see how the program has grown over the last few years – and we'll continue to work closely with employers to innovate and bring more talented technicians to this exciting and ever-evolving industry."
Industry demand for trained automotive and diesel technicians continues to accelerate. The U.S. Department of Labor projects that, by 2026, there will be more than 1.2 million job openings in the automotive, diesel and collision repair industries. The transportation industry needs to fill more than 120,000 technician job openings annually, to meet projected demand.
The Ignite program is now accepting applications across UTI's campuses. Click here for more information.