News
Two U.S. Military Vehicle Models Set for Public Sale for First Time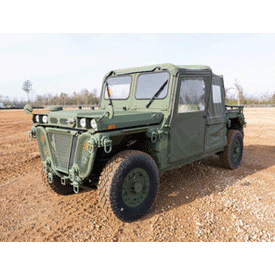 GovPlanet in 2014 began selling Humvees from the U.S. Department of Defense to the public. Now the company set to release two new military vehicles to the U.S. market: the Internally Transportable Vehicle (ITV), nicknamed the Growler, and the Medium Tactical Vehicle Replacement (MTVR).
The M1161 ITV Growler is a 4×4 Jeep-style vehicle with a Navistar 2.8-liter diesel, 132-horsepower engine. It is approximately 13.5-feet long, 5-feet wide, and 6-feet high. The ITV was developed by the American Growler company in 1999 and entered into service with the U.S. Marine Corps in 2009 as a utility, scout, or fast-attack vehicle.
The MTVR is a 6×6, seven-ton cargo truck with a Cat C12 diesel, 410-horsepower engine. It is approximately 26-feet long, 8-feet wide, and 11.5-feet high. The MTVR entered into production in 2005 and is still in regular operation with the U.S. Navy and Marine Corps as a prime mover for the M777 howitzer, as well as troops, fuel, water, and a wide variety of other equipment.
"This is obviously an extremely rare and unique opportunity to purchase highly-spec'd vehicles built for and used by the U.S. military," said Doug Feick, senior vice president of new business and corporate development, Ritchie Bros. "Following up on the success we achieved with the sales of the Humvee for the U.S. Department of Defense, which garnered a ton of public interest and excitement, sales of the ITVs and MTVRs showcases our ability to provide innovative, best-in-class disposition solutions for the U.S. government, as well as other federal, state, and local agencies."
Both the ITV and MTVR, which are set to start selling through GovPlanet.com this spring, are currently on display at Ritchie Bros.' six-day onsite auction in Orlando, Florida. More than 13,500 equipment items, trucks, and other industrial assets are set to sell in the Orlando auction between Feb. 18-23.