News
Twin-Turbo LS-Powered Lamborghini Huracán with 1,500 Horsepower Rises from the Ashes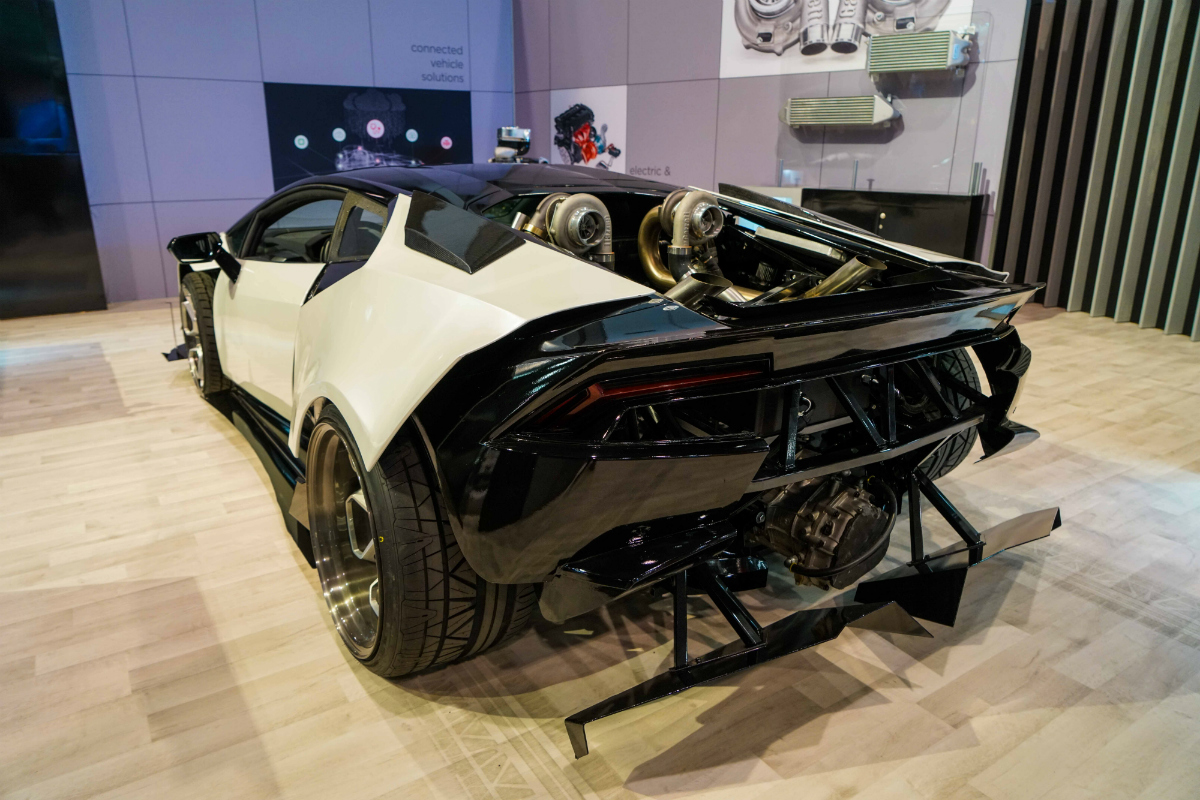 Garrett Advancing Motion, developer of performance turbochargers, unveiled a one-of-a-kind Lamborghini Huracán built by Chris Steinbacher of the 'B is for Build' YouTube channel at The SEMA Show in Las Vegas.
Known for its ambitious garage builds of wrecked vehicles, 'B is for Build' began the Huracán project with a fire-damaged, non-rolling bare shell. To begin the build, the burnt rear frame of the vehicle was switched out with a rear frame cut from another totaled Huracán and then paired with a Texas Speed LS engine. The chassis was then outfitted with a Graziano manual transmission from an Audi R8, making it the world's first manual-transmission Huracán. Rounding out the transformation of the vehicle, the exterior of the vehicle was equipped with modified carbon-fiber body panels from a Huracán Super Trofeo based off a design by concept artist Khyzyl Saleem.
The Huracán is powered by a re-sleeved 430-cubic-inch LS-based V-8 assembled by Texas Speed and is connected to twin Garrett GTX3582R Gen II turbochargers via custom-fabricated exhaust components built by the "B is for Build" team. Two Deatschwerks DW400 fuel pumps handle fuel delivery, while cooling is provided by an ETS water/air intercooler. The engine is managed by a Haltech stand-alone ECU, and while it has not been dyno tuned yet, Texas Speed claims the engine is capable of 1,500 horsepower. Steinbacher and his team intend to make that power.
The power of this engine is delivered to the ground through a gated Graziano manual transmission sourced from an Audi R8, which has been upgraded with HCF Autosport drop gears and a metallic clutch. To support the high-horsepower capability of the engine, the vehicle has been equipped with custom-built Driveshaft Shop axles. The Lambo's look is complete by a set of 20-by-10-inch Rotiform HUR wheels in the front and 20-by-14-inch wheels in the rear. The wheels are wrapped in Nitto's high-performance Invo tires, measuring 275/30R-20 in the front and 345/25R-20 in the rear.
"The concept of engine-swapping a supercar with some form of crate motor has been a dream build of mine for many years now," Steinbacher said. "Before I had even purchased the Huracán shell, I reached out to artist Khyzyl Saleem to see if he would be interested in helping design and bring to life my vision of a futuristic hot rod. With a stellar vision for the exterior of the vehicle, we then partnered with a number of performance companies like Garrett to achieve the power to match. Garrett's twin turbos are a large part of why we are going to be able to achieve the insane power numbers we're looking to make with this car, and we're thrilled to pull the cover off our latest build in their booth."