News
Turn 14 Distribution Wheels Forward with Mickey Thompson on Line Card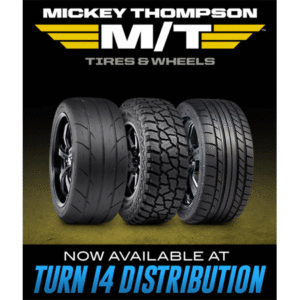 Turn 14 Distribution has added Mickey Thompson Performance Tires and Wheels to its line card.
"The addition of Mickey Thompson allows Turn 14 Distribution to offer another staple performance brand and increase our offerings in the tire and wheel categories," said Kyle Shelley, Turn 14 Distribution's director of sales. "Mickey Thompson has a well-established history in the racing industry and is a brand name that enthusiasts recognize and trust. With products like the ET Drag line and their ATZ off-road tires, Mickey Thompson's addition allows us to fulfill the performance our customers demand."
Mickey Thompson since 1963 built his products to win. Today, the company still holds fast to Mickey's values, his unceasing drive for faster and better, according to the company. The primary objective at Mickey Thompson is to design and build innovative performance products for automotive enthusiasts.