News
Turn 14 Distribution Partners with Seibon Carbon on Exclusive Tesla Products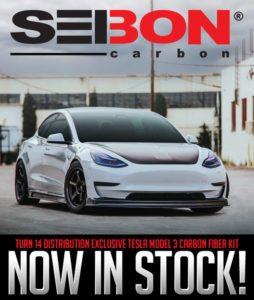 Performance parts distributor Turn 14 Distribution has collaborated with Seibon Carbon to design and distribute an exclusive Tesla Model 3 carbon fiber aero kit, available solely through Turn 14 Distribution, the company announced.
With significant growth in the electric vehicle market, Turn 14 Distribution strongly supports the aftermarket for these vehicles, providing Tesla and other EV owners with products to improve their vehicle's dynamics, the company said. As more automobile manufacturers push towards producing EVs, there will be an increased demand to modify these vehicles. Continuing to lead in support of this burgeoning demand, Turn 14 Distribution joined forces with Seibon Carbon to create a carbon fiber aero kit for the 2017–2020 Tesla Model 3. The complete collection includes a carbon fiber trunk lid, hood, front lip, rear diffuser and side skirts.
The product designs materialized from a collective effort between the two companies. The hood drew inspiration from the Porsche 911 GT2 RS hood, the company said, while the trunk lid features an integrated lip spoiler which adds extra flair while retaining an OEM-plus look. All of the pieces in the kit are coated with a glossy clear coat.