News
Turn 14 Distribution Names Supplier of the Year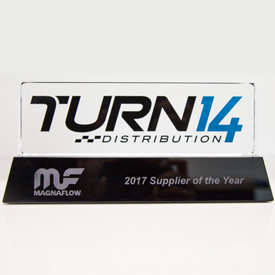 Turn 14 Distribution every year honors one company with its Supplier of the Year award, highlighting a vendor that excels in not only the product it creates, but how it supports distributors. This year's award was presented to Magnaflow.
Factors that are taken into consideration for this award include ease of warehouse receiving, accurate product data and co-op/marketing programs that help both companies mutually.
"We couldn't be the company we are today without our distributor's support," said MagnaFlow President Dan Paolone. "We are honored to have been chosen from a field of well-respected manufacturers and look forward to continued success with companies like Turn 14."
For more information, visit magnaflow.com.