News
Turn 14 Distribution Line Card Adds Rolling Big Power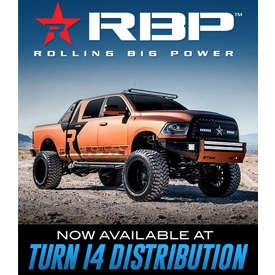 Turn 14 Distribution has extended its line card to include Rolling Big Power (RBP).
"Turn 14 Distribution is bringing RBP on board to further expand our off-road and truck offerings. We believe they will be a great addition to our line with their stylish and functional wheels, grilles, steps, and truck accessories," said Kyle Shelley, Turn 14 Distribution's director of sales.
RBP, established in 2001, is a leader in the custom off-road truck market. The RBP portfolio adds a distinctive aesthetic to off-road wheels, grilles, steps, and accessories, according to the company.
Roland Trudel, the founder of RBP, was a truck enthusiast that often spent his time around local truck shows and events. He soon realized that the shows and events were a great way to market and create brand awareness for RBP. He originally started making custom exhausts which were very popular with off-road and truck enthusiasts.
RBP, according to the company, continually researches trends and materials for new accessories that perform well in all-terrain environments.