News
Turn 14 Distribution to Hold Industry Leaders Summit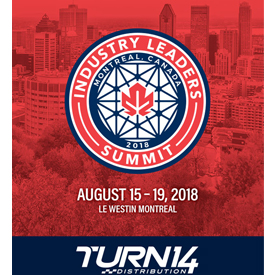 Turn 14 Distribution has launched its third annual customer incentive travel rewards program, the Industry Leaders Summit.
The Industry Leaders Summit is an exclusive program designed and implemented by Turn 14 Distribution, which combines all the elements of a relaxing vacation, exciting activities, great gifts, along with informative private interactions with attending sponsors that aren't possible in any other setting, according to the company. The combination of all these ingredients is designed to provide Turn 14 Distribution's customers with the ultimate networking experience with the aftermarket industry's top movers and shakers.
The 2018 Industry Leaders Summit will be held at the Le Westin Montréal Hotel & Resort in Montréal, Québec, Canada. The event will be held from Aug. 15 -19.
Active Turn 14 Distribution customers have the ability to earn points from Nov. 15 through May 15 when they purchase products through Turn 14 Distribution. At the completion of the program, 60 customers will earn an invitation for two people to attend the Turn 14 Distribution Industry Leaders Summit.
Winning customers will receive round trip airfare for one person plus a guest, transportation to and from the resort in Montréal, single room, double occupancy accommodations for them and their guest, select breakfast, lunch, and dinner, and exclusive access to leadership teams from both Turn 14 Distribution and attending sponsor brands, according to the company.
To learn more about Turn 14 Distribution's Industry Leaders Summit or to set up an account, call 877-7TURN14.