News
Turn 14 Distribution Expands Line Card with JAMO Performance Exhaust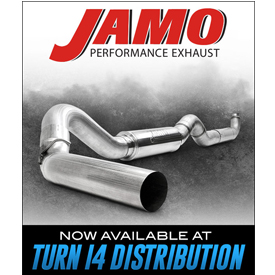 EDITOR'S NOTE: This article was originally published in THE SHOP eNewsletter on Feb. 6 with the incorrect spelling for JAMO Performance Exhaust listed in the headline. We regret the error.
Turn 14 Distribution has added JAMO Performance Exhaust to its line of stainless steel race exhausts available through its line card.
"Partnering with JAMO Performance Exhaust allows Turn 14 Distribution the ability to offer our diesel truck customers quality stainless steel exhaust products at a great opening price point. JAMO's line of race exhausts cover a range of diesel truck applications and have become a popular site throughout every diesel event." said Kyle Shelley, Turn 14 Distribution's director of sales.
Founded in 2012 by two young motorsports enthusiasts, JAMO Performance Exhaust makes it its top priority to be continually recognized as a reliable manufacturer of quality race proven exhaust systems for the most popular Dodge, Ford, and Chevy trucks, according to the company.
JAMO Performance Exhaust was born from the will to create premier performance products that will conquer the toughest terrains with the highest level of product integrity and quality, according to the company. At JAMO Performance Exhaust, they make it their mission to continually develop cutting edge top of the line race proven products while valuing input from the industry's leading enthusiasts. The company's 4- and 5-inch race exhaust systems are constructed from mandrel bent T-409 stainless steel tubing and handcrafted TIG welding to yield a flawless finish.
JAMO, according to the company, is setting the standard in developing functional, quality racing products that will stand the test of time.