News
Turn 14 Distribution Completes Solar Carport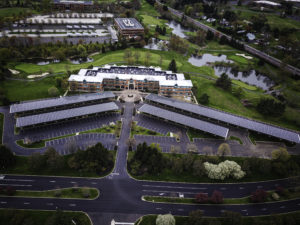 In service to its goal to offset 100% of its energy usage, aftermarket performance parts distributor Turn 14 Distribution, has overseen the completion of one of Pennsylvania's most extensive solar carports at its Horsham headquarters.
In 2019, the company began its investment in solar power in the form of a solar carport at its headquarters in Horsham, Pennsylvania, that will generate over 1.1 megawatts of energy per year, which accounts for 48 percent of the company's overall energy usage. This renewable energy generation initiative will reduce emissions by 1,000 tons of CO2 per year, equivalent to planting 23,267 trees per year.
"It is Turn 14 Distribution's responsibility to be a good environmental steward," stated Jon Pulli, CEO, Turn 14 Distribution. "Our company is highly motivated to do its part in the fight against climate change by transitioning to renewable energy sources."
The 1 MW solar carport was designed and installed by Paradise Energy Solutions and stands 14 feet in the air to provide space for parking and to follow aesthetic guidelines.