News
Turn 14 Distribution Becomes Exclusive U.S. Distributor of REMUS Exhausts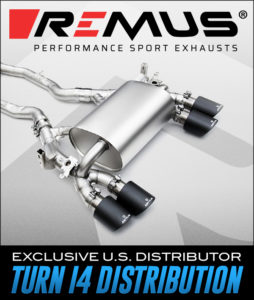 Performance parts distributor Turn 14 Distribution has been established as the sole U.S. Distributor of REMUS Performance Sport Exhausts, a producer of exhaust components and complete exhaust systems for premium sports cars and motorcycle applications, the company announced.
"REMUS is a well-known manufacturer of high-quality exhaust systems with decades of experience in both the aftermarket and OEM sectors. The brand offers Turn 14 Distribution another exclusive brand opportunity to provide our customers, covering both car and motorcycle applications. The addition of REMUS will improve our support for the ever-rising demand in the European performance market," said Mohammed Ayad, Divisional Purchasing Manager, Turn 14 Distribution.
REMUS Performance Sport Exhausts was founded in 1990, and only now has approximately 850 employees and produces exhaust systems for the world market at three locations in Austria and Bosnia. The company aims to create unique innovations, producing products more sustainably with engineering that includes in-house vehicle tests on its test benches and pass-by test track, the company said. Beyond the aftermarket industry, the company's OEM clients include numerous manufacturers, including Mercedes AMG, Porsche, Bentley, McLaren, Aston Martin, BMW and Ducati.