News
Turn 14 Distribution Announces Its Fourth Industry Leaders Summit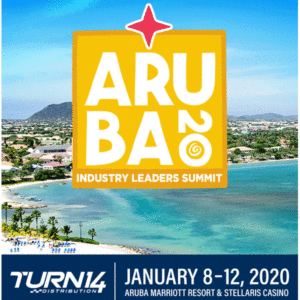 Turn 14 Distribution has announced its fourth customer incentive travel rewards program, called the Industry Leaders Summit.
The Industry Leaders Summit is an exclusive program designed and implemented by Turn 14 Distribution to reward its best customers with a Caribbean trip featuring "a relaxing environment, exciting activities, and great gifts, along with informative private interactions with attending sponsors that aren't possible in any other setting. The combination of these ingredients is designed to provide customers with the ultimate networking experience with the aftermarket industry's top movers and shakers," according to the company,
Turn 14 Distribution's fourth Industry Leaders Summit will be hosted at the Aruba Marriott Resort & Stellaris Casino in Palm Beach, Aruba. The event is set for Jan. 8-12, 2020. Nestled against the Caribbean sands of Palm Beach, the oceanfront resort offers modern, recently upgraded guest rooms and suites, deluxe amenities, an array of dining experiences, and four-star service, accorindg to officials.
Active Turn 14 Distribution customers have the ability to earn points by purchasing products through the distributor from April 1 through Sept. 30. At the completion of the program, 65 customers will earn an invitation for two people to attend Turn 14 Distribution's Industry Leaders Summit.
Winning customers will receive round trip airfare for one person plus a guest, transportation to and from the resort in Aruba, single room, double occupancy accommodations for them and their guest, select breakfast, lunch, and dinner, and exclusive access to leadership teams from both Turn 14 Distribution and attending sponsor brands.
For additional infomraiton or to set up an account, call Turn 14 Distribution at 877-7TURN14.