News
Turn 14 Distribution Adds Weld Off-Road to Line Card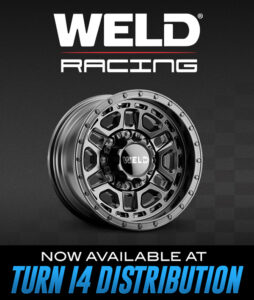 Performance parts distributor Turn 14 Distribution has added to its selection of Weld Racing products with the addition of Weld Off-Road to its line card, the company announced.
"Turn 14 Distribution brought on Weld Racing in 2019, and we are now extending the product selection to include Weld Off-Road truck and UTV wheels. Weld Off-Road wheels have been highly requested since we added the brand and are expected to be popular among our truck and overland customers. As we continue to grow in the powersports space, the Weld Off-Road UTV wheels will supply premium offerings for this sought-after platform. These product lines are similar to the Weld Performance RF series we carry in that they are rotary formed. Turn 14 Distribution is proud to offer these new product lines to our dealers as we continue to strengthen our partnership with Weld Racing," said Alex Lesslie, divisional purchasing manager, Turn 14 Distribution.
Weld Racing engineers have designed and fabricated wheels from 10-inch to 26-inch in diameter for a variety of applications, totaling more than 30,000 part numbers.