News
Turn 14 Distribution Adds Wehrli Custom Fabrication to Line Card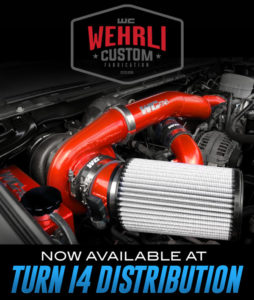 Performance automotive parts distributors Turn 14 Distribution have added the diesel truck performance parts manufactured by Wehrli Custom Fabrication to its line card and will be stocking these products in its distribution centers.
"Wehrli Custom Fabrication is well-known in the diesel performance industry for its custombuilt products which fit each of the three domestic diesel truck platforms," said Kyle Shelley, Turn 14 Distribution's director of sales. "The quality of Wehrli's products is easy to see as soon as the consumer opens the box. The craftsmanship and value these products offer will be a hit with Turn 14 Distribution's customers and fill an important niche in our line card."
Wehrli Custom Fabrication Inc. specializes in high-performance diesel upgrades and custom metal fabrication. The company provides fabricated parts and upgrades for Duramax, Power Stroke, and Cummins diesel trucks. Wehrli Custom Fabrication offers turbo kits and custom performance parts in many different levels, designed for work, play and even competition diesel trucks.
Wehrli-branded parts are made in the United States and manufactured in-house.