News
Turn 14 Distribution Adds Wagner Tuning to Line Card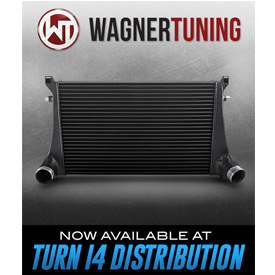 Turn 14 Distribution has expanded its product offerings with the addition of Wagner Tuning to its line card.
"Wagner Tuning is known for their exceptional product lines that include intercoolers, downpipes, and more," said Kyle Shelley, Turn 14 Distribution's director of sales. "Their commitment to high caliber craftsmanship and detail are visible on every product developed, from the finish down to each weld. Wagner Tuning offers a wide variety of vehicle coverage which encompasses European, sport compact, domestic, and truck applications. Turn 14 Distribution is thrilled to now provide these quality options to our customers."
Since 2002, Wagner Tuning has been developing and producing high quality intake manifolds, exhaust manifolds, downpipes, and intercooler kits, according to the company.
Wagner Tuning designs its intercoolers without any restrictions, or dead spots, commonly found in OEM intercoolers, according to the company. Instead, the company's intercoolers are designed to allow for a more uniform filling, pushing more air flow through the intercooler.