News
Turn 14 Distribution Adds UMI Performance to Line Card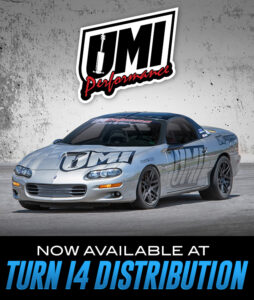 Performance parts distributor Turn 14 Distribution has broadened its selection of suspension components with the addition of UMI Performance to its line card, the company announced.
"UMI Performance adds a unique addition to the Turn 14 Distribution line card with its high-quality domestic performance suspension components. The company has smalltown roots but the highest machinery, organization and materials standards. The extensive line of suspension products for various classic and modern domestic applications provides exciting new offerings for Turn 14 Distribution. With our companies having parallels in enthusiast culture, we are motivated to grow this partnership," said Alex Lesslie, divisional purchasing manager, Turn 14 Distribution.
For over 16 years, UMI Performance has produced suspension parts in-house at its Philipsburg, Pennsylvania facility with 100% U.S.-sourced raw materials, the company said, and manufactures classic and modern domestic vehicle suspension components that are track-tested and street approved.