News
Turn 14 Distribution Adds Two Driven Performance Brands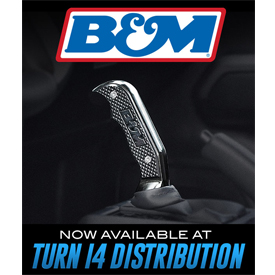 Turn 14 Distribution has enhanced its product offerings with the addition of two Driven Performance brands: B&M Racing & Performance and Hurst Performance.
B&M Racing & Performance
B&M Racing & Performance specializes in performance automatic transmissions, torque converters, SFI approved flexplates, legendary automatic shifters, precision manual shifters, and many other transmission products including cast deep aluminum transmission pans, transmission coolers, and automatic transmission fluids.
B&M has been growing within the aftermarket since the early 1950s. B&M's founders who were racers themselves identified the needs of local racers and street performance enthusiasts, and developed products to fill those needs.
"B&M Racing & Performance is a brand that both racers and enthusiasts rely on for high-quality performance parts. B&M possesses an extensive racing history that the company applies toward the development of all of its products," said Kyle Shelley, Turn 14 Distribution's director of sales. "The company offers shifter solutions and transmission products for a range of applications across all markets, allowing us to cover our diverse customer's demand for performance."
Hurst Performance
Hurst maintains a wide variety of products for the performance enthusiast, including automatic shifters, legendary Hurst manual shifters, Hurst shifter knobs, and shifter handles. In addition, Hurst manufactures quality-engineered shifter accessories and transmission products to fit the needs of the performance minded driver.
"Hurst Performance is a highly recognizable name in the automotive aftermarket, known for their contributions to the hot rod community," Shelley said. "Hurst has been creating iconic shifters for over 60 years, and more recently have expanded their offerings to cover everything from the classic and timeless modern muscle shifters, to shifters for new hot-hatches like the Ford Focus RS. This allows us to bring some exceptional and diverse shifter options to our customers."
George Hurst founded the company in 1958. He and his team were pioneering and designing a wide variety of performance products for the blossoming hot rod community, such as motor mount kits, performance shifters for both manual and automatic transmissions, disc brakes, custom wheels, line lock, and even the Jaws of Life, according to the company. Hurst has been one of the largest OEM shifter suppliers for the Pontiac GTO, Plymouth Barracuda, Plymouth Superbird, Ford Mustang Boss 302, Oldsmobile, AMC, and the Dodge SRT-10 pick-up.