News
Turn 14 Distribution Adds Tonno Pro to Line Card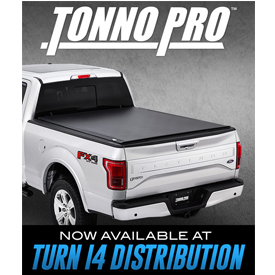 Turn 14 Distribution has increased its product coverage in the truck accessories market with the addition of Tonno Pro and its catalog of innovative tonneau covers.
"Turn 14 Distribution is excited about the ability to offer our customers another quality and affordable tonneau cover solution with the addition of Tonno Pro to our line card. Tonno Pro's easy no drilling installation and their industry leading warranty make it a highly sought after brand for truck bed covers," said Kyle Shelley, Turn 14 Distribution's director of sales.
When the U.S. economy took a nose dive in 2008, a couple of brothers in Arizona decided to answer the call of truck owners who needed a cover for their truck bed, but were now more cost conscious than ever. The brothers, who were lifelong automotive enthusiasts and founders and owners of various automotive aftermarket businesses, launched the Tonno Pro brand with the Tonno Fold soft vinyl tri-folding cover.
The Tonno Fold was created from quality materials and backed by an industry leading warranty. It was easy to install-in five minutes or less-and was easy to operate.
Truck owners nationwide continue to rely on Tonno Pro for truck bed covers that deliver quality, versatility and affordability, and they can look forward to more innovative products that help them enjoy and protect their trucks, according to the company.
For more information, visit turn14.com.