News
Turn 14 Distribution Adds TITAN Fuel Tanks to Line Card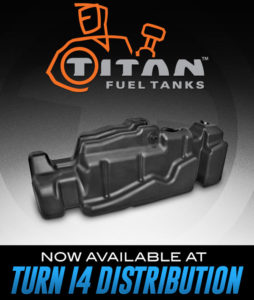 Performance parts distributor Turn 14 Distribution has added TITAN Fuel Tanks, a manufacturer of high-capacity aftermarket fuel tanks for trucks, to its line card, the company announced.
"TITAN Fuel Tanks develops its tanks using a military-grade polymer that is both lightweight and can stand up to any challenge. The company's rugged and dependable products are built to tackle tough off-road backcountry driving, long-distance towing and every adventure in between. Our customers have heavily requested TITAN Fuel Tanks, and now we can meet this demand," said Alex Lesslie, divisional purchasing manager, Turn 14 Distribution.
TITAN Fuel Tanks started in 2003 in response to the voices of diesel truck owners who wanted to go farther, for longer. TITAN Fuel Tank's goal was simple; design a lightweight tank that would perfectly fit each vehicle, not impact cargo space, and provide up to double a pickup's fuel range. The tank had to operate without interfering with any functional parts of a vehicle, including the hitch, and – the real kicker – it had to look good.
All TITAN Fuel Tanks' bodies are made of High-Density Crosslinked Polyethylene (XLHDPE). The crosslinked molecular weave makes the company's fuel tanks stronger, safer and more durable, the company said, and allows Titan Fuel Tanks to confidently back each one with a lifetime warranty.