News
Turn 14 Distribution Adds Titan 7 to Line Card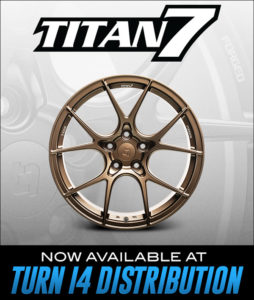 Performance parts distributor Turn 14 Distribution has expanded its inventory of fully forged wheels with the addition of exclusive Titan 7 wheels to its line card.
"Titan 7 has built a highly-respected brand name across the aftermarket industry by designing and manufacturing premium forged wheels with the stated goal of providing 'forged for all.' Turn 14 Distribution collaborated with Titan 7 to offer our customers unique and exclusive wheel lines for Tesla, Subaru WRX STI and off-road applications. These exclusive lines include the T-CS5 forged split five-spoke wheel and the T-AK1 forged off-road wheel, which was recently showcased on vehicles used in our Ride and Drive Experience at the 2021 King of the Hammers," said Mohammed Ayad, divisional purchasing manager, Turn 14 Distribution.
Titan 7 has over 40 years of combined experience in the automotive aftermarket industry. The company is performance-minded with varied experience in professional racing supply, OEM factory supply and aftermarket supply, the company said.
All of the company's forged wheels are made in-house, as everything from design, tooling, forging, machining, heat treatment, surface finishing and testing is done by Titan 7 using state-of-the-art technologies, the company said.