News
Turn 14 Distribution Adds Timbren to Line Card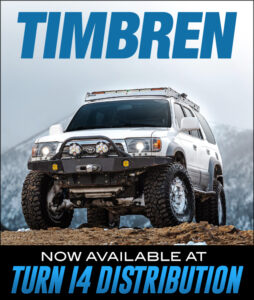 Performance parts distributor Turn 14 Distribution has added Timbren to its line card, widening its selection of truck and off-road suspension products, the company announced.
"Timbren has been around since the late 1960s and has built its brand by manufacturing rubber springs that provide load support and stability for towing and hauling applications. Timbren's product line hits not only our core truck applications (RAM, Ford, GM) but also a category we are not intimately familiar with – heavy-duty trucks. Using the same manufacturing process Timbren also targets the off-road market with their Active Bump Stop products, which will fit well with our off-road dealers. Applications like Raptor, Tundra, GX470 and Gladiator should make this product segment an area of focus for our sales team." said Alex Lesslie, divisional purchasing manager, Turn 14 Distribution.
In 1968, Timbren Industries released the Aeon rubber springs and the SES (Suspension Enhancement Systems) Suspension upgrade kits, developed to keep vehicles consistently level while preventing roll and sway in vehicles overloaded with accessories like plows or slide-in campers, the company said. Today, Timbren offers 400-plus suspension upgrade kits, furnishing a curated assortment of components that best suit each vehicle application.