News
Turn 14 Distribution Adds SpeedStrap to Line Card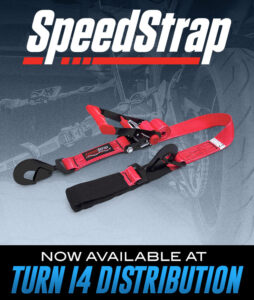 Performance parts distributor Turn 14 Distribution has expanded its selection of recovery and restraint straps by adding SpeedStrap to its line card, the company announced.
"SpeedStrap recovery straps and tie-downs are a staple throughout the industry, heavily trusted by enthusiasts, and built with the highest quality. Turn 14 Distribution is excited to grow its partnership with SpeedStrap and offer its products to our dealers," said Matt Mabry, divisional purchasing manager, Turn 14 Distribution.
Founded over 20 years ago, SpeedStrap developed into a recovery and restraint outfit with the off-road enthusiast in mind, the company said. Today, SpeedStrap's recovery lineup of proprietary woven straps, ratchets, and hooks are available for a wide range of automotive, motorcycle, and powersports applications.
SpeedStrap now offers a lineup of straps and tie-downs that are made for a variety of possible uses, including show, motorsport use, or emergency recovery situations.