News
Turn 14 Distribution Adds SHW Performance to Line Card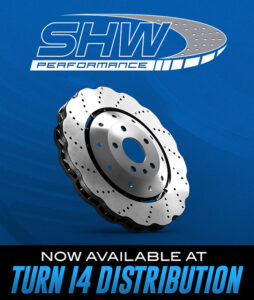 Performance parts distributor Turn 14 Distribution has added SHW Performance to its line card, the company announced.
"SHW Performance manufactures brake rotors for a wide range of vehicle applications that complement the European and Sport Compact markets. SHW Performance is one of the select companies that offer proper 2-piece OE pin-drive replacement rotors. The addition of SHW Performance will allow us to offer our customers high-performance OE rotors that have historically been available through dealerships. Turn 14 Distribution is eager to grow its partnership with SHW Performance and offer their premium parts to our dealers," said Wayne Howard, divisional purchasing manager, Turn 14 Distribution.
SHW manufactures pin-drive brake rotors that were jointly developed with BMW Motorsport in 1993. As a result, it brought motorsport-derived rotors to the road car market, which are installed from the factory on BMW M-series and Mercedes AMG vehicles, the company said. As well as machining and finishing centers, SHW operates its own aluminum and iron casting plants to manufacture its products entirely in-house. Each process, from casting to machining, is fully OEM certified and controlled to the expected standards of OEM manufacture, the company said.