News
Turn 14 Distribution Adds Schrader Performance Sensors to Line Card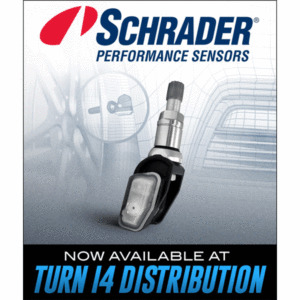 Turn 14 Distribution has added Schrader Performance Sensors to its line card.
"Schrader Performance Sensors Tire Pressure Monitoring Systems and sensors are the premium option on the market for TMPS kits," said Kyle Shelley, director of sales for Turn 14 Distribution.  "When it comes to tire pressure monitors and parts, Schrader offers everything from OE replacement sensors to programming tools and retrofit kits. Adding these to our assortment allows Turn 14 Distribution to offer its customers an excellent monitoring solution."
Schrader's history dates to 1844 when a German immigrant, August Schrader, opened a small shop in lower Manhattan, New York. A few decades later, August Schrader's son, George Schrader, took over and produced the first bicycle valve in 1891, according to the company. Less than six years later, he introduced an automotive pneumatic tire valve-the first of many patents to follow, including a variety of valve assemblies and gauges.
In 1997, Schrader equipped the Corvette C5 with a tire pressure monitoring system. Schrader's direct TPMS technology is now found in more than 50 percent of global OEM vehicle platforms, according to the company.
For more information, visit its website at turn14.com.