News
Turn 14 Distribution Adds Rywire Motorsports Electronics to Line Card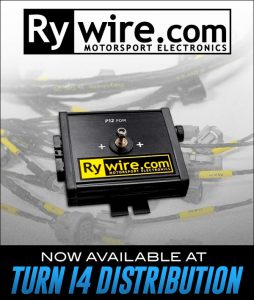 Performance parts distributors Turn 14 Distribution have expanded its line card with the introduction of Rywire Motorsports Electronics' assortment of wiring harnesses and other electronic components.
"Our partnership with Rywire Motorsports Electronics represents Turn 14 Distribution's first venture into this market segment. Rywire's impeccable reputation in the industry makes the partnership a natural fit for Turn 14 Distribution's philosophy," said Alex Lesslie, divisional purchasing manager, Turn 14 Distribution. "The company's background in problem-solving enables it to provide customers with wiring solutions that work the first time properly, regardless of the intended use of the vehicle. We are looking forward to building a lasting partnership with the Rywire team."
Rywire Motorsports Electronics harnesses are used in a variety of disciplines such as off-road racing, land speed, racing, Formula Drift, drag racing and road racing.
The company maintains an extensive database of specific OEM and custom engine specifications to reference when creating a harness from scratch and can manufacture both direct-replacement and fully custom harnesses. RME wire harnesses use Raychem DR-25 heat shrink covering and adhesive-lined wire junctions to keep moisture out. Each connector is crimped with pneumatic heads, then tagged with a yellow identification label for installation. All heavy interference circuits are protected and grounded with proper wire covering.
Owner Ryan Basseri's vision for the company's products focuses on manufacturing wiring harnesses to improve underhood aesthetics and simplify the wiring process for engine swap and racing applications. Currently, the company's products cover many import applications, with plans to include many new platforms, including domestic and electric vehicles.