News
Turn 14 Distribution Adds Roll-N-Lock to Line Card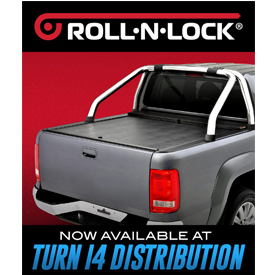 Turn 14 Distribution has added Roll-N-Lock's retractable tonneau covers and cargo management products to its continuously expanding line card.
"Roll-N-Lock is an innovator in the tonneau cover market and its emphasis on quality can be seen in its product craftsmanship and design. The company's focal products consist of three different series of retractable tonneau covers whose benefits include low profiles lids and a compact housing when fully retracted. Turn 14 Distribution is happy to now offer Roll- N-Lock's secure and versatile tonneau covers to our customers," said Kyle Shelley, Turn 14 Distribution's director of sales.
Roll-N-Lock Corp. has long been the industry leader in retractable tonneau cover technology and is the birthplace of almost all product innovations within this field, according to the company. It is this vision, coupled with their continuing commitment to quality, that has made Roll-N-Lock among the fastest growing producers of retractable truck bed covers in the world.
Roll-N-Lock manufactures tonneau covers and other cargo management products known for reliability, security, and versatility, according to the company.