News
Turn 14 Distribution Adds Ridetech to Line Card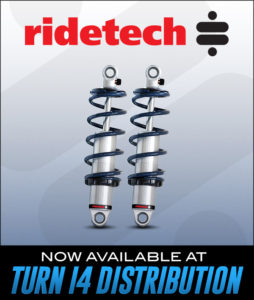 Performance parts distributor Turn 14 Distribution will now be offering suspension components geared toward hot rods with the addition of Ridetech to its line card, the company announced.
"Ridetech produces suspension systems geared to improve handling and ride quality of muscle cars, trucks and hot rods. The company offers a wide range of premium products, including air suspension systems, coil-overs, shock absorbers, springs, tubular control arms, roll bars and sway bars. Ridetech manufactures in the USA, ensuring the production of top-quality parts for hot rodders. Turn 14 Distribution is pleased to partner with another brand under the FOX umbrella and offer Ridetech to our customers," said Alex Lesslie, divisional purchasing manager, Turn 14 Distribution.
Ridetech started in 1996 with a vision of building a better-lowered car, using air suspension to accomplish the task, the company said. It has since expanded into several other business areas, including agriculture, commercial transport and defense projects.