News
Turn 14 Distribution Adds Rhino-Rack to Line Card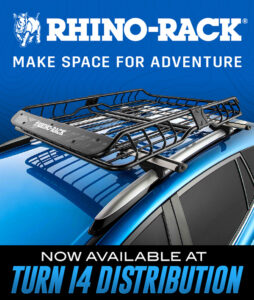 Performance parts distributor Turn 14 Distribution has added Rhino-Rack's line of roof racks and accessories to its line card, the company announced.
"Rhino-Rack is a worldwide roof rack industry leader and a favorite among overland adventurers. The company manufactures durable and easy-to-use roof racks, luggage boxes, bike racks, kayak racks, and load securing accessories. The Rhino-Rack Pioneer Platforms, Batwing Awnings, and Quick Mount Leg Sets are its top-selling products, and we expect this to hold true with our customers. As overland popularity continues to climb, Turn 14 Distribution is excited to partner with Rhino-Rack and offer its premium product selection to our dealers," said Matt Mabry, divisional purchasing manager, Turn 14 Distribution.
Founded in Australia, Rhino-Rack is a believer that there's an adventurer in everyone and strives to build products that help make adventure inclusive for everybody, the company said.