News
Turn 14 Distribution Adds Rancho to Line Card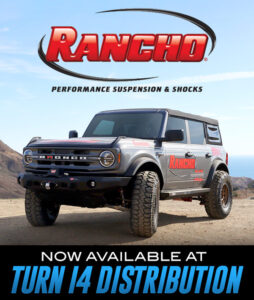 Performance parts distributor Turn 14 Distribution has added Rancho, a manufacturer of truck shocks and off-road suspension components, to its line card, the company announced.
"Rancho manufacturers innovative shocks and suspension parts for truck and off-road applications. Rancho is a staple brand in the Jeep space, and its product offerings extend deep into the market, covering numerous popular makes and models in the truck realm. The company is highly regarded for its shock absorbers, which we anticipate to be a best-seller among our customers. Rancho has been highly requested by our dealers, and we are excited to be able to offer them another strong Jeep focused brand," said Alex Lesslie, divisional purchasing manager, Turn 14 Distribution.
Rancho was founded in the 1950s in Long Beach, California, as Rancho Jeep Supply and grew into an off-road and performance suspension components manufacturer. In 1990, Rancho was purchased by Tenneco Inc. and expanded to include the five-way adjustable shock absorber, and led to the launch of the RSX shock absorber, the company said. Rancho continued to grow and add fully engineered shock absorbers – like RS9000 XL, Loaded quickLIFT, Pro Series, and more – plus suspension systems to the brand's offerings.