News
Turn 14 Distribution Adds Rampage Products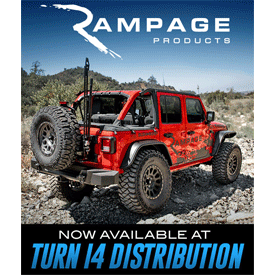 Turn 14 Distribution has added Rampage Products to its line card.
"Rampage is a staple in the truck accessories market with their premium Jeep soft tops, bumpers, nerf bars, and other truck modifications. With the addition of Rampage Products, Turn 14 Distribution will further expand its presence in the truck and off-road market," said Kyle Shelley, Turn 14 Distribution's director of sales. "Their continued commitment to service, quality, and product innovation has established Rampage Products as a significant leader of premium parts and accessories in the specialty Jeep, truck, and SUV marketplace."
Rampage Products designs, produces, and markets premium accessories that are built for the trail and ready for the road, according to the company. The company's products are designed and manufactured to original equipment specifications and standards for materials and workmanship.
Rampage Products is made up of automotive enthusiasts that enjoy many different facets of the automotive industry. Their team of industry enthusiasts not only use Rampage Products, but also contribute to the many new ideas and product innovations you can see today on their website and in their catalog, according to the company.
Visit Turn14.com for additional information.