News
Turn 14 Distribution Adds Project X Offroad to Line Card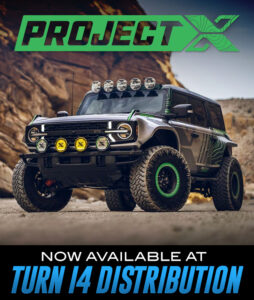 Performance parts distributor Turn 14 Distribution has added Project X Offroad and its lineup of truck and Jeep products to its line card, the company announced.
"Project X Offroad is innovating unlike anyone else in the off-road segment, and Turn 14 Distribution is thrilled to partner with the company to help expand its reach. The brand puts a unique, modern twist on every offroad accessory it produces, and we're certain our dealers will be impressed by Project X Offroad's offerings," said Matt Mabry, divisional purchasing manager, Turn 14 Distribution.
Project X Offroad is an off-road lighting and accessory brand with driving lights and light bars with the ability to control them wirelessly with a single switch board, or via an in-house-developed smart phone app. The company also offers other products such as its Elite OPTX headlights with integrated 4K cameras and Blizzard Box portable coolers.