News
Turn 14 Distribution Adds PROGRESS Technology to Line Card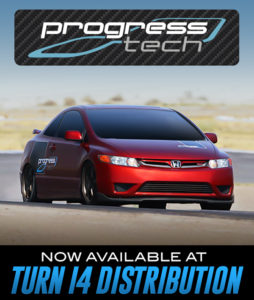 Performance parts distributor Turn 14 Distribution has added high-performance suspension components from PROGRESS Technology to its line card, the company announced.
"PROGRESS Technology is a unique brand that offers a catalog of performance suspension products, including sway bars, springs and coilovers. Formerly distributed under Motovicity, we are glad to offer this brand to customers through our B2B distribution channel. PROGRESS Technology is renowned in the Honda performance market, with most application coverage for Honda and Acura vehicles. The company's program includes a broad selection of additional modern performance handling components as well as limited domestic car and light truck applications," said Alex Lesslie, divisional purchasing manager, Turn 14 Distribution.
Established in 1995, The PROGRESS Group Inc. has evolved from its beginnings as a distributor of suspension components to become a manufacturer of the PROGRESS Technology line of performance handling components. The PROGRESS Technology program includes applications for late-model vehicles and light trucks.