News
Turn 14 Distribution Adds Pirelli to Line Card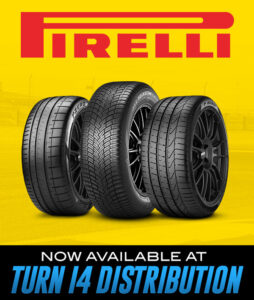 Performance parts distributor Turn 14 Distribution has broadened its selection of premium performance tires with the addition of Pirelli to its line card, the company announced.
"Pirelli is a globally recognized brand known for its cutting-edge tire technology. Turn 14 Distribution will offer Pirelli's full assortment of tires, including the popular P-Zero and Scorpion families. For the P-Zero line, we will be carrying its standard sports performance road tire, the ultra-high-performance Corsa PZC4, and the top-selling Trofeo R track performance tire. In addition, we will be supplying the Scorpion ATR, an all-terrain performance tire for light truck and SUV applications. Pirelli is an excellent fit for Turn 14 Distribution and will compliment our diverse customer base," said Alex Lesslie, divisional purchasing manager, Turn 14 Distribution.
Pirelli, a Pure Consumer Tire Company, focuses on the high-value tire market and has concentrated on developing, producing and marketing tires with large rim sizes, unique technical and aesthetic characteristics, and associated with high performance, advanced technology, and safety, the company said.